Olympic bar
Olympic bar ✓ Use different bars for more varied training options ✓ 50-mm sleeves for using the same plates on different bars ✓ Capacity up to 680 kg.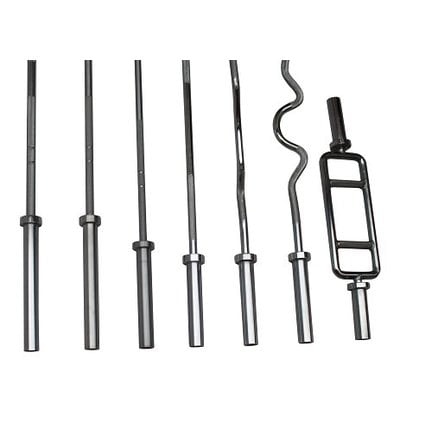 An Olympic bar is a weight lifter's bread and butter. With an Olympic bar and matching Olympic weight plates virtually every weight lifting exercise can be executed. From large compound exercises like squats and deadlifts to more isolated workouts that target the biceps, lower back or even the abs. You can order your Olympic bar from the wide selection of fitness and weight lifting equipment at the online store of Fitribution.
Olympic bar and additional 50-mm bars for Olympic weight plates
Besides an official Olympic bar of 220 cm for men, and 201 cm for women, Fitribution sports a wide variety of other bars which are suitable for the same weight plates. Try an EZ curl bar for bicep curls and arm extensions, or the hammer bar which is perfectly suited for the likewise named hammer curl exercise. The wider the variety of bars and additional weight plates at your gym or studio, the more training options you can provide your clients with. And the better you distinguish yourself in the personal training and fitness branch.   
Interested? Order now or contact Fitribution for more information
Care to know more about the possibilities at Fitribution? Looking for more equipment for your gym or studio? Whatever your questions are, Fitribution is ready to assist you! You can contact our customer service via +32 475 86 66 12.
Relevant pages: