Professional dumbbells
Professional dumbbells ✓ Rubber- or urethane coated ✓ Excellent for free weight workouts ✓ Range between 2 and 80 kilograms.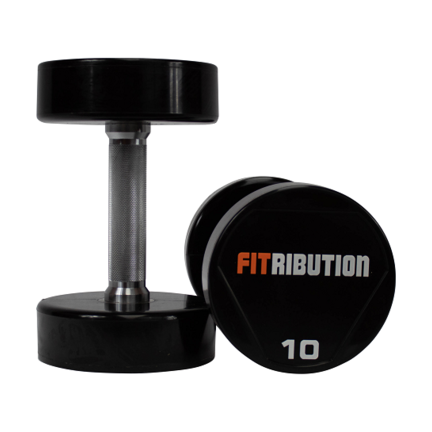 Looking for a set of professional dumbbells to use in your gym? Fitribution has exactly what you need, and more! Professional dumbbells are used for all kinds of strength training, aerobics classes and intense Crossfit workouts. Place your order in the online store of Fitribution, and give us a call if something isn't clear for you.
Professional dumbbells for versatile use in gyms and personal training studio's
Professional dumbbells are used for free weight workouts. A proper set of dumbbells enables your clients to train each major muscle group while working on their core-stability. Another advantage of dumbbells is that, unlike most fitness machines, they take up very little space. Maintenance is a breeze and professional dumbbells are very durable because the cast iron plates are coated with rubber or urethane. Depending on the type of dumbbell, you can purchase them within a range of 2 up to as much as 80 kilograms at Fitribution.
How may we assist you?
Along with professional dumbbells, Fitribution also has a variety of dumbbell racks where you can store your dumbbells in. An adjustable bench is also included in the assortment. With these attributions you will be able to provide your clients with an interesting and challenging workout every time! If you need any help ordering, or if you have any questions in general, please contact Fitribution by calling +32 475 86 66 12.
Relevant pages: