Olympic weight plates 50mm
Olympic weight plates ✓ urethane, rubber coated and bumper plates ✓ Different plates for different disciplines ✓ 1.25 to 50 kilograms.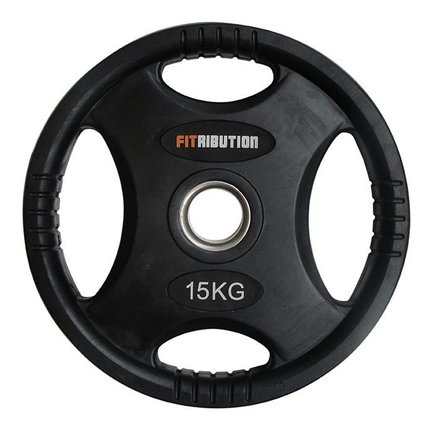 Fitribution has the right Olympic weight plates that fit every standard issue Olympic bar with a 50-mm diameter sleeve. The sleeve is the thicker ending you'll find at the far ends of a barbell. If these are 50-mm in diameter, the bar weighs 20 kilograms, and the bar is either 2,2 metres (men) or 2,01 metres (women), you've got yourself an Olympic bar. Of course, smaller sizes are also available with a 50-mm sleeve. Olympic weight plates can be added to these bars to increase the weight, and therefore, the intensity of the exercise. Fitribution has different kinds of Olympic weight plates available, which can be used for weight lifting workouts in several disciplines.
Olympic weight plates for Crossfit, weight lifting and power lifting
Olympic weight plates can be used for general fitness routines with free weights, for powerlifting and weight lifting. Each discipline has its own characteristics which are reflected in the Olympic weight plates best suited for the job. At Fitribution you can choose between the following options:
If you wish to know more about the individual characteristics of each type of weight plate, contact Fitribution and inquire about the Olympic weight plate that suit your needs best. Contact customer service by calling +32 475 86 66 12.
Relevant pages: