Vinyl dumbbell
Vinyl dumbbell ✓ Coated to prevent damage ✓ Allows for a sturdy grip ✓ Many different payment methods.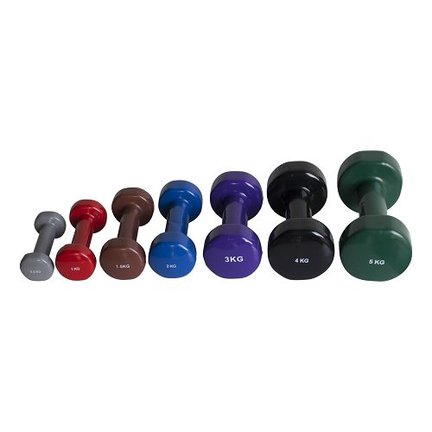 The vinyl dumbbell has been a favourite piece of equipment in aerobics classes for many years now. It's a very easy to handle, durable, and space saving way of intensifying your workout routine. Fitribution offers a range of aerobic dumbbells from 0.5 to 5 kilograms per dumbbell, with 0.5-kilogram increments. Since you also need a place to store your dumbbells after classes, an aerobic dumbbell rack is also available in the online assortment of Fitribution.
Advantages of the vinyl dumbbell
One characteristic that makes the vinyl dumbbell perfect for use in aerobics classes is that the vinyl allows for a firm grip. Aerobics classes usually focus on high intensity workouts that target the cardio-vascular system. Which is a fancy way of saying that is makes you sweat, a lot! That's why a vinyl dumbbell is the preferred equipment during aerobics classes. Besides, a lot of aerobic studios have a wooden floor that isn't meant for heavy weight training sessions. The vinyl coating protects both the floor, and the dumbbell from damage.
Use one of our many payment options
At Fitribution, our goal is to make the access to professional fitness-, aerobic-, and weight lifting equipment as easy as possible. That's why you can choose to purchase your order by means of iDEAL, Mastercard, Visa, debit card and many more. Do you have any questions about the available payment methods? Give us a call at +32 475 86 66 12.
Relevant pages: