Resistance bands
Resistance bands ✓ Body weight exercises for all clients ✓ Makes intense workouts more manageable ✓ Easy ordering process.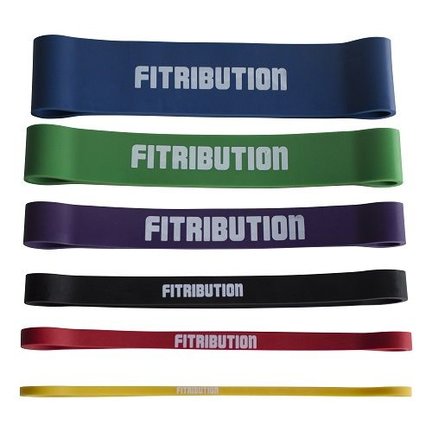 Resistance bands are the new up and coming training attributes. Training methods over the last few years have shifted from heavy 'pumping iron' like workouts, to intense compound training routines that focus on full body workouts. Using your own body weight as resistance, rather than heavy dumbbells or barbells. Exercises such as the pull up have found their way back to the gym. It's a pretty heavy exercise though, and not all of your clients might be able to 'pull it off' in the first few tries. Resistance bands are an excellent addition to the new 'less is more' training methods in gyms and personal training studio's.
Resistance bands allow your clients to train using their own bodyweight
Because a pull-up is rather intensive, resistance bands help to execute the exercise properly. The resistance bands take over some of the bodyweight, making the exercise more manageable, even for first time clients. Resistance bands are available in several levels at Fitribution. Each level offers more resistance, making a workout less heavy. Resistance bands are not only useful for starting or inexperienced clients. Advanced athletes can use these bands to make more reps in one set. Do you wish to know more about the applications of resistance bands? Contact Fitribution by calling +32 475 86 66 12.
Relevant pages: