Professional kettlebells
Professional kettlebells ✓ Great addition to your dumbbells and weight plates ✓ Cast iron & powder coated ✓ 4 to 32 kilograms.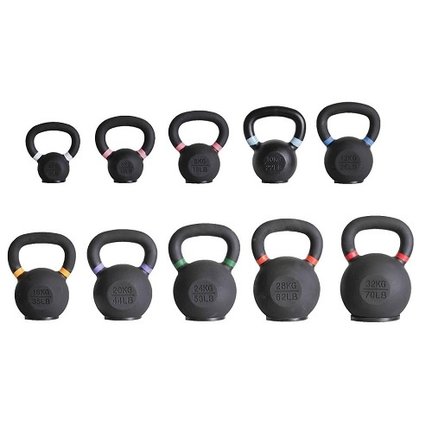 Choose between professional cast iron or powder coated kettlebells at the Fitribution web shop. Kettlebells are used frequently in gyms or during personal training sessions for functional training. By using professional kettlebells, much more exercises are possible than by just using dumbbells and weight plates. Inform about professional kettlebells by calling Fitribution, or order them now via the web shop.
Professional kettlebells for sports enthusiasts on every level
One of the reasons that fitness-, and crossfit workouts are still gaining in popularity, is that people can work out on their own level.  This however does require a certain variety in the available equipment. At Fitribution, professional kettlebells can therefore be purchased in a range of 4 kilograms, up to as much as 32 kilograms. Whether you choose the powder coated, or the cast iron version, each kettlebell is equipped with a rubber foot, thus protecting your floor in case somebody gets a little too excited.
Call Fitribution for support
If you need any help placing your order, Fitribution is more than willing to assist you. Also, if you have any questions regarding our products, Fitribution customer service employees are well-trained and can provide you with proper advice. Contact Fitribution by calling +32 475 86 66 12.
Relevant pages: