Urethane dumbbells
Urethane dumbbells ✓ Highly durable ✓ Racks for storage ✓ Professional advice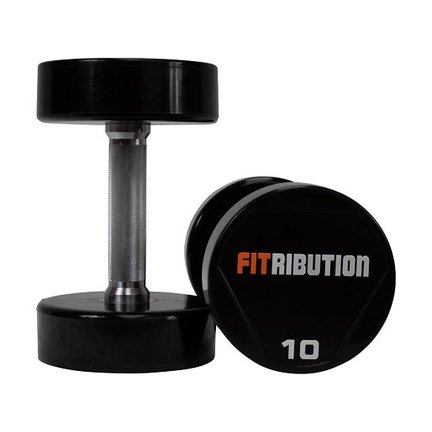 Order urethane coated dumbbells at Fitribution if you are looking for equipment that requires next to no maintenance and that won't damage the floor. Fitribution offers you urethane dumbbells in a range of 2 to 50 kilograms per dumbbell, with increments of 2 kilograms. With this extensive range, all of your clients will be able to work out on their own level. Feel free to contact Fitribution if you have any questions regarding or products or our ordering process.
Highly durable urethane dumbbells
Most gym equipment is built to last. And it needs to be since intensive use tends to wear and tear the material. Urethane dumbbells are highly durable, the can withstand impacts and absorb shocks better than rubber coated dumbbells for instance. In addition to the urethane dumbbells on sale, our dumbbell racks are also worth taking a look at. Several racks are capable of holding the full range of urethane dumbbells in our assortment. It's easier to keep your dumbbells in top shape and it prevents tripping and falling accidents.
Shipping or store pick up?
Fitribution is in Wommelgem, Belgium. Here, you can pick up your order. For a small fee it is also possible to have your order shipped to your preferred address. If you have any questions we'd be happy to answer them. Contact Fitribution by calling +32 475 86 66 12.
Relevant pages: