Weight plates and Olympic weight plates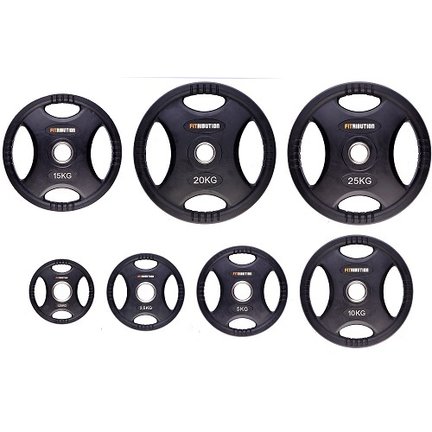 Weight plates are necessary for intensifying weight lifting workouts for you and your clients. There are several different kinds of weight plates available, such as Olympic weights, which can be used for an wide variety of exercises. Take a look around in the web shop of Fitribution for the weight plates of your choosing. If you have any questions regarding the different weight plates and Olympic weights, please do contact us and tell us what you're looking for.
Different weight plates for different applications
Most people know weight plates as an additional weight to put on barbells, used for exercises like bench pressing, squats and deadlifts. If this what you're looking for than iron plates with an additional rubber ring should do the trick just fine. Weight plates can also be used on their own during ab workouts, arm extensions or shoulder shrugs. This requires plates with a rubber coating and a skid free handle. Lastly, bumper plates are a special type of weight plates which are often used in Crossfit- and weightlifting workouts. Because of their unique composition, these plates won't break or crack when they're dropped from height.
Range of standard Olympic weights
Fitribution has a range of Olympic weight plates that fit any standard issue Olympic bar with a 50-33 diameter sleeve. These Olympic weights can be used for weight lifting workouts in a number of disciplines. For instance, use Olympic weight plates for powerlifting, weight lifting or for your general fitness routine.
Made your choice? Order now!
Have you made up your mind about the kind of Olympic weights or weight plates you need? Order them today and you will receive your order as soon as possible! Or would you like some advice before you decide? In that case, please call Fitribution at +32 475 86 66 12.
Relevant pages: