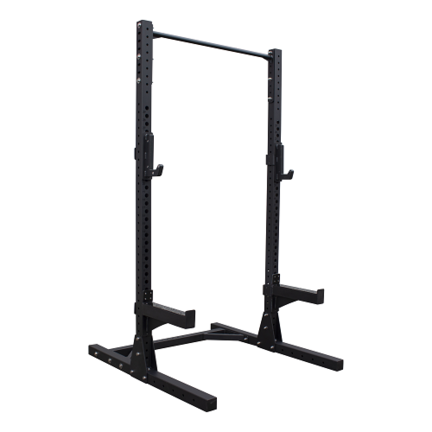 A Crossfit rack by Fitribution is equipped with everything you need to train all major muscle groups and is perfectly suited for compound training. The whole point of Crossfit is training with free weights and one's own bodyweight. Check out our Crossfit rack online and place your order in the convenient web shop of Fitribution. Be sure to check out our other equipment as well so you can offer your clients the full benefits of Crossfit!
An adjustable Crossfit rack so everybody can train at their own level
The Crossfit rack that is available at Fitribution can be adjusted so that everybody can use it properly. The J hooks for instance can be adjusted so they can be used to hold a barbell both while bench pressing, and during squats. The same goes for the spotter arms which are also used as an extra safety measure in case somebody can't complete a full set. The Crossfit rack can also be used as an adjustable pull up bar.
Bars, racks, and everything else you need
Get even more use out of your Crossfit rack by ordering Olympic bars, plates and resistance belts. This will enable you to get maximum usage of a relatively small space. This makes the Crossfit rack ideal for smaller gyms and personal training studio's. If you have any questions regarding our product you can contact Fitribution by calling +32 475 86 66 12.