Dumbbell rack
Dumbbell rack ✓ Keep your gym tidy ✓ For storing dumbbells of all weights and sizes ✓ Must have for weight lifting enthusiasts.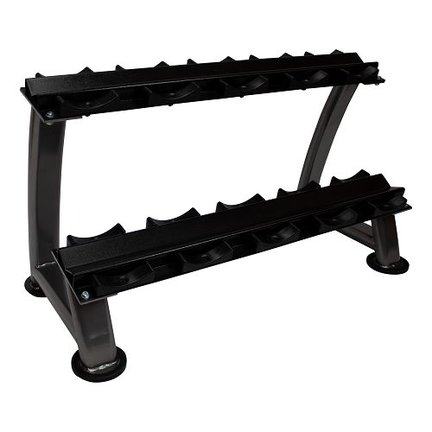 The type of dumbbell rack that suits you best, depends on the kind of dumbbells and the arrangement of your gym, personal training studio, or at home. Each dumbbell rack has its own characteristics. For more information, browse our website or contact Fitribution if you have any questions.
What dumbbell rack do you need?
Naturally, a dumbbell rack is used to store your dumbbells. It keeps the area neat and it prevents tripping hazards. That being said, it is important to realise how your dumbbell rack is going to be used by your client. For example, Fitribution offers you the following options:
Tower dumbbell rack;
Used to store dumbbells up to 10 kg. Because of its unique shape it takes up little space and is ideally used in fitness classes such as aerobics.
Luxury dumbbell racks;
Available in a wide variety of sizes. The smallest rack can hold 5 sets of dumbbells, while the largest can hold up to 35 sets. These dumbbell racks are mostly used in gyms that focus on weightlifting and free weight exercises.
Home gym racks;
The name is pretty self-explanatory. These racks are smaller and yet you can still store larger and heavier weights than you could with the tower dumbbell rack.
Care to know more? Contact Fitribution by calling +32 475 86 66 12.
Relevant pages: